Ever since her high-profile relationship with singer The Weeknd ended, the model has remained tight-lipped when it comes to her personal life. So when Hadid appeared to confirm she was in a relationship with Marc Kalman in July 2021, fans immediately wanted to know more about her new boyfriend. Who is the man that captured the heart of one of the world's most famous models? Here's everything you need to know about Bella Hadid's boyfriend, Marc Kalman.
While the couple has been keeping the details of their romance private, Hadid recently opened up about some of her past relationships before Kalman. During an appearance on Victoria's Secret's VS Voices podcast in January 2022, the supermodel spoke about how she struggled to have "boundaries" in the past, saying, "I constantly went back to men – and also women – that had abused me and that's where the people pleasing came in." She also said that therapy, meditation, and staying off of social media have helped her to heal.
1. He has collaborated with Travis Scott
Source: NBCnews
According to 1985, Kalman and Black created record artwork and branding for artist Travis Scott. In 2015, the artistic duo partnered with Scott at the SX Tumblr IRL event, where their artworks were displayed at the location where Scott performed.
2. He works in fashion and art
Source: Hollywood Life
Like his partner, a supermodel, Kalman is employed by the fashion sector. In contrast to Hadid, his work is typically more unnoticed and focuses mostly on branding, record art, and merchandising design.
Although Kalman's official website appears to be down, Seventeen previously reported that he has collaborated with several high-profile brands, including Milk Studios, MADE Fashion Week, KNG Records, and the eyewear company Smoke x Mirrors. He has also created garments for the Japanese fashion label A Bathing Ape, according to E! News.
In the profile, Black also revealed what working with Kalman is like and said, "Marc manages my impulses. When I'm working on something, Marc is, like, the only person I will talk to. I go into a cave. I don't want to hear what anyone else thinks."
3. He's reportedly been dating Hadid since 2020
Source: Page Six
Hadid and Kalman have reportedly been dating since around 2020, according to certain reports.
The couple had reportedly been "secretly dating for a year" by July 2021, according to Page Six. The article also included pictures of what it claimed to be the couple's first public encounter in July 2020 outside the Aimé Leon Dore café in New York City.
Read more: 5 Bella Hadid's Tattoos: The Hidden Messages You Don't Know
4. He and Bella Hadid have collaborated outside of work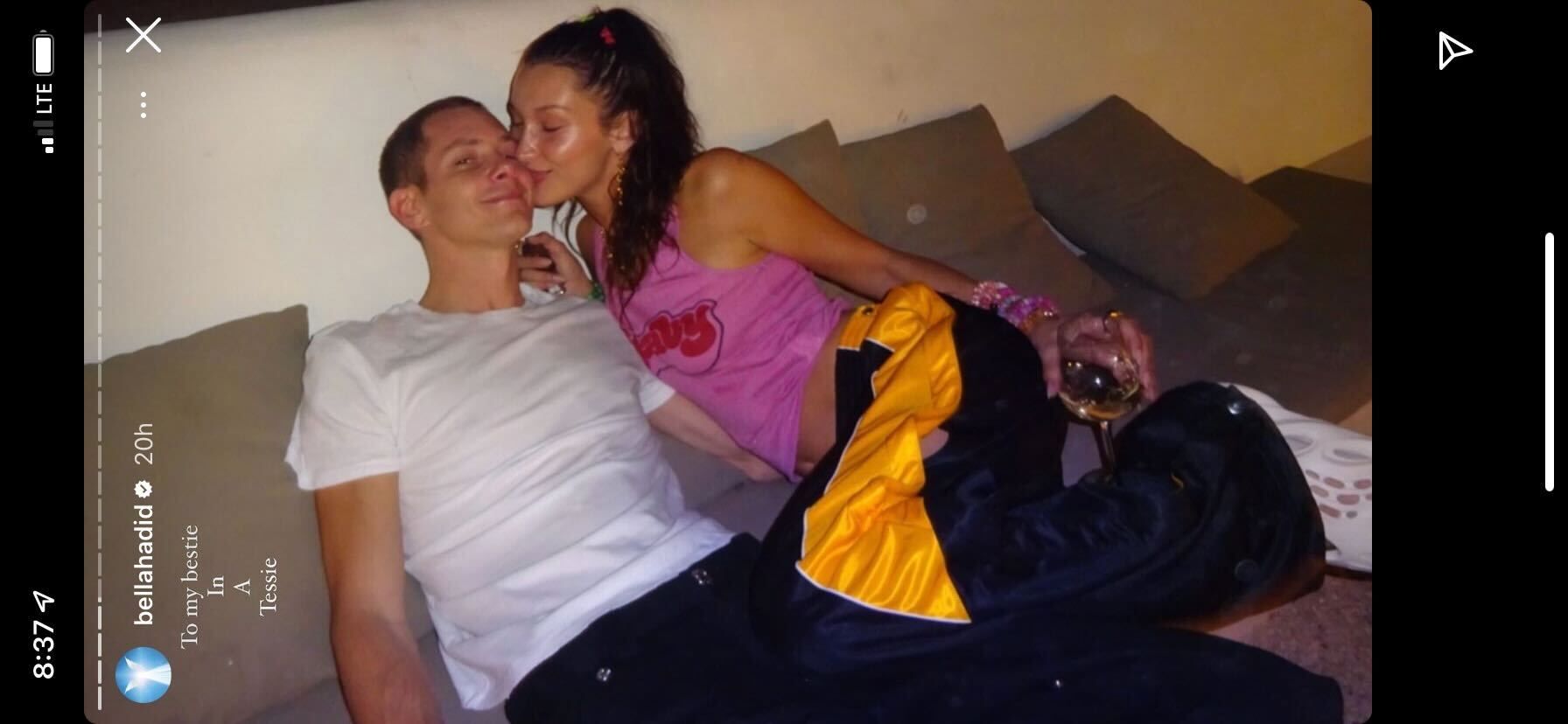 Source: Seventeen.com
Aside from being in the fashion industry, the couple has also partnered for charity causes. In February 2022, Hadid and Kalman participated at The Bowery Mission in New York City for a coat drive. While Kalman was not photographed during the visit, the pair were seen arriving at the shelter together in photos obtained by the Daily Mail.
5. He has met Hadid's family
Source: Seventeen.com
Kalman and his girlfriend attended Gigi Hadid's 27th birthday party in New York City in April 2022. Yolanda Hadid and Mohamed Hadid, as well as Anwar Hadid, were present at the star-studded event. According to E! News, Kalman, and Hadid were also seen earlier in the day delivering balloons to Gigi's apartment in honor of her birthday.
6. He frequently travels with Hadid
Source: News.com.au
The couple has displayed PDA in some of the most stunning places on earth. In July 2021, not long after Kalman first appeared on Hadid's Instagram, pictures acquired by Page Six show the couple cuddling while on a trip to the French Riviera.
The art director traveled with Hadid to Paris for Fashion Week in April 2022. After being seen together walking the city's streets, Hadid posted a video of her and Kalman kissing and enjoying the sights. In a carousel of images from her vacation to Rome that the model also posted, Kalman was pictured sitting next to Hadid as she enjoyed an ice cream cone.
Aubtu.biz is a website that provides you with entertainment updates and creative ideas to brighten your day. Don't hesitate to visit our site to know more about updated celebrity and entertainment news.