#15 The Cat Is An Asshole
#16 A True Rebel
#17 This Bird Gets It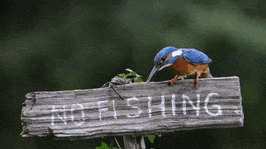 #18 You're Quite The Rebel, You Know That?
#19 Lost Dog
#20 Goats Are Jerks
#21 F*ck The System
#22 This Dog Understands
#23 Because Bears Are Rebels
#24 This Duck Sucks
#25 Anarchy Pigeon
#26 We Adopted Barry And This Was What He Did On His First Walk
#27 Rebellious Seagull
#28 Clearly Breaking The Rules
#29 This Elephant Laughs At Your Rules
#30 My Dogs Are Not Allowed In The Kitchen When I Cook. The Kitchen Starts At The White Tiles
Which one do you find the most unruly? Let us know in the comments below and don't forget to share them with your friends and family members!