If you have seen the latest season of the Young Royals series on Netflix, you must be questioning "Are Young Royals actors queer?" since they portray almost perfectly their characters. Especially our leading actors, Edvin Ryding and Omar Rudberg who play Prince Wilhelm and Simon Eriksson respectively. 
In this post, let us help you find the answer for this question.
#1. One Of Them Is Out And Proud 
Source: Gay Times
Ryding and Rudberg are both amazing young talents from Sweden. While Ryding is a 19-year-old actor who was into acting since he was only 8, his costar is a musician who joined a boyband before and now is a solo singer. They both have notable careers at such young ages and apparently, they still have a lot more to showcase in the future. 
Ryding has never revealed his dating partner beforehand. Therefore, he has also never had a chance to identify himself or sort. Even though there are several rumors about his girlfriend resurfacing on the Internet, the Swedish actor did not deny nor confirm any of those. So far, we all know that he is single and happy about it. In a previous interview on TV, while being asked what he would do after a party, he said he would go to highschool (LOL!). 
Unlike Ryding, Rudberg came out as part of the LGBTQ+ community when he was 22 years old, in 2019. The singer/actor answered the Swedish LGBTQ+ magazine QX "Sometimes I hang out with guys, sometimes with girls. It varies." He would rather not label his sexuality specifically. Even though we might see that he is very open-minded while talking about his LGBTQ Pride. 
#2. Who Is Omar Rudberg Dating Right Now?  
Source: Instagram
There have been several rumors about his boyfriend whom he is dating now. However, rumors stay rumors since none of them have ever made an official announcement. Reportedly, fans have spotted that he and Nurbo Bozan, a Swedish actor and boxer, are spending quite a lot of time together. They were seen together in parties, trips and even Rudberg's latest music video, Todo De Ti (All That She Wants). Significantly, they even make out passionately in the music video. All of these combined, many fans believe that Bozan is the one the Young Royals star is dating right now. 
#3. It Does Not Matter Who They Are, We All Love Them For Their Talents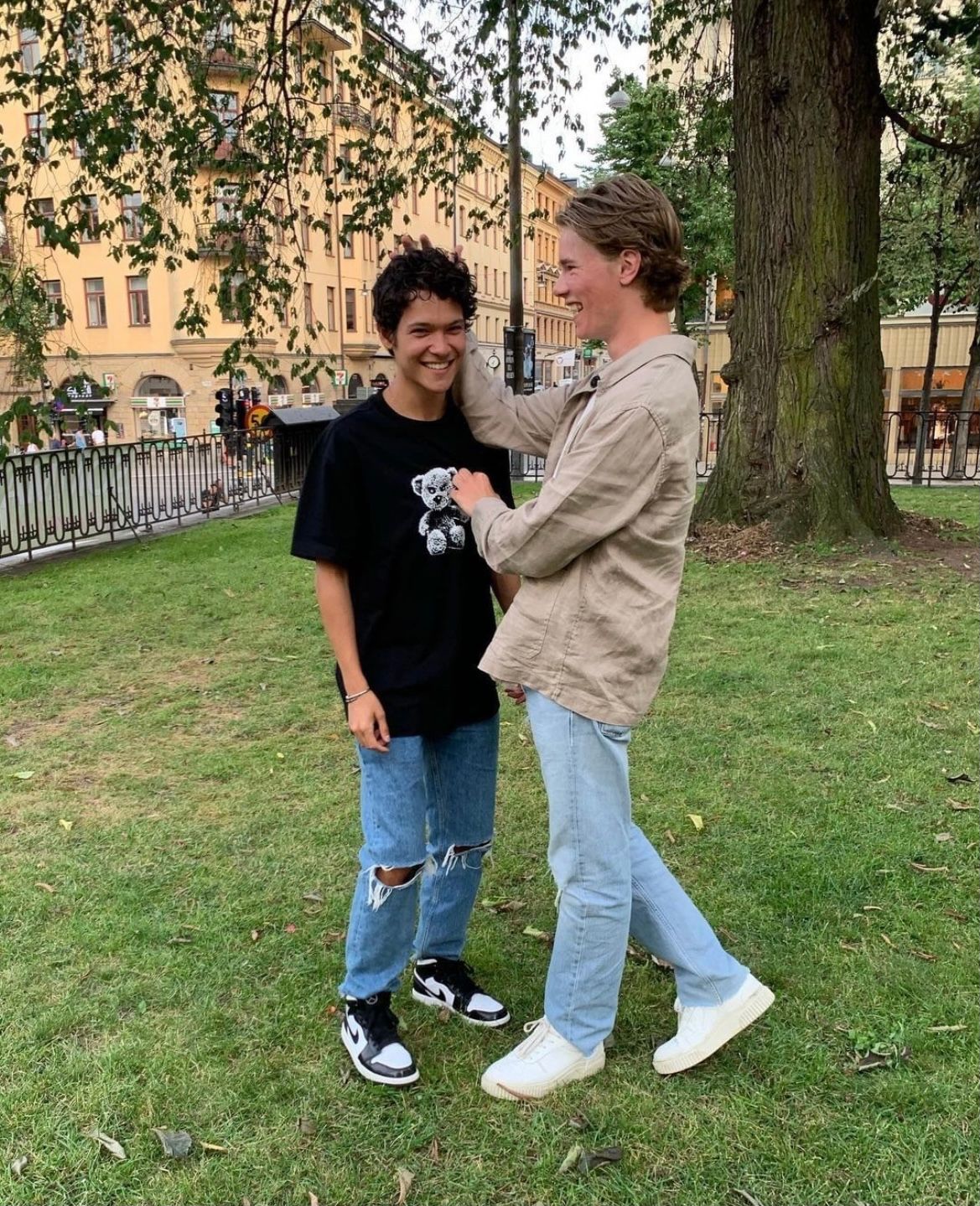 Source: Twitter
Recently, Heartstopper's star Kit Connor made a heartbreaking statement on his Twitter account, claiming that he was bisexual. Most importantly, he did not come out of the closet voluntarily but was forced to do so. Following that, many fans, costars, and also the streaming service Netflix showed their support for the 18-year-old actor. Eventually, you do not support or love someone for his sexuality but his talent and contribution. It's vital to acknowledge that we should never question someone's sexuality. These questions such as "Are the Young Royals actors gay in real life?" or "Are the Young Royals cast gay?" are quite nonsense. At the end of the day, they still give their best performances to fans and audiences. 
Stay tuned for more funny and entertaining posts on our main page http://aubtu.biz. This is your daily source for celebrity and movie funny memes!